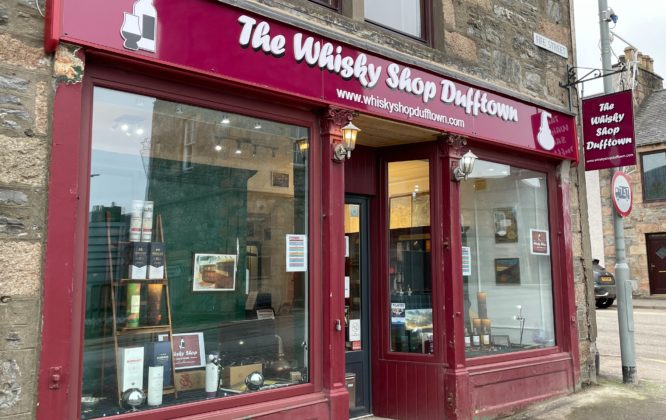 Dufftown
The Whisky Shop Dufftown,
1 Fife Street
Dufftown
Moray
AB55 4AL
dodges.documents.basin
Every 3 metre square of the world has been given a unique combination of three words. Find out more at what3words.com
Overview
VISIT THE WHISKY SHOP DUFFTOWN
Situated in the heart of Dufftown, The Whisky Shop Dufftown is owned by Keeper of the Quaich, Mike Lord and run with the help of shop manager, Vicky Keough. The shop has an exceptional selection of over 600 single malt scotch whiskies and many gins to choose from. Mike and Vicky have over 30 years of whisky experience to help you make your choice. They are also able to send your purchases to many countries around the world. Can't make it to the shop? We are open 24/7 on our website.
We pride ourselves on being an all-round independent whisky information centre. You can get helpful advice on which whiskies to buy, how to fully enjoy Scotland's finest product and make the most of your trip to Speyside.
Opening Hours:
Monday to Sunday: 10:00 am to 6:00 pm
PERSONAL WHISKY TASTINGS
Looking for something to do in the Evening? Why not join Mike and Vicky in The Whisky Shop Dufftown for an evening of whisky with a private tasting tailored to your group. You can book evening tastings at 6.30pm (not Tuesday or Thursday) in the warmth and comfort of the shop. We will discuss with you how to structure the tasting. Our standard tasting is six whiskies for £35 per person. Looking for something special? How about a tasting of five 21 Years Old single malt scotch whiskies from across Scotland for £80 per person. Tastings are for 2 to 10 people. Please allow 24 hours notice.
Getting Here
Get Directions to The Whisky Shop Dufftown using Google Maps