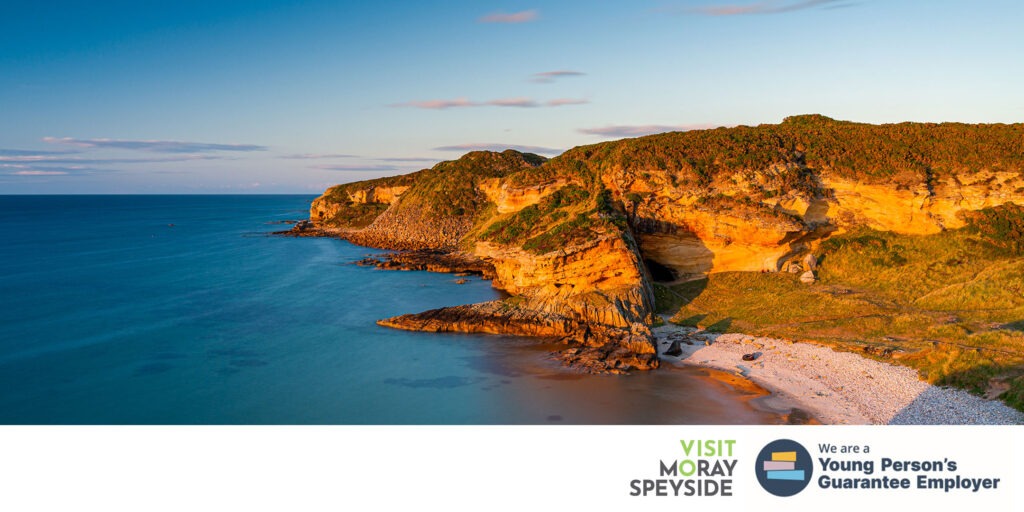 The Covid-19 pandemic has affected almost every aspect of life, from the country's economic performance to the way we interact with our friends and loved ones. Ongoing lockdowns, restrictions and uncertainty have changed day-to-day living completely, and possibly permanently.
Scary isn't it?
Now imagine yourself as a young person trying to enter the world of work during this time. School experience is disrupted, lessons are online, placements and work experience are halted, access to the working environment, where development and learning are critical, is thin on the ground.
Doesn't sound easy, does it?
It all seems a bit bleak.
But what if I were to tell you that there is an initiative that can help both young people and local businesses build a new future for our economy, community and society?
---
Let me introduce you to the Young Person's Guarantee.
The Young Person's Guarantee aims to give all young people in Scotland opportunities within the world of work, whether that's training and education or job and apprenticeship prospects.
Organisations signing up to the Guarantee agree to support young talent and build the future workforce by committing to one or more of the following 5 asks:
Prepare young people for the world of work: by inspiring pupils and students to gain valuable skills for the workplace through taking part in sector days, careers fairs and workshops with schools and colleges.
Help all young people to achieve their potential: by engaging with young people who face barriers to work through mentoring, industry awareness or providing volunteering and placement opportunities.
Invest in a skilled workforce: by creating work-based learning, training, and upskilling opportunities for young people, such as offering an apprenticeship.
Create job, volunteering and training opportunities: by creating jobs and opportunities to support young people through taking part in job creation programmes such as the Kickstart scheme.
Establish an inclusive and fair workplace: by ensuring the working environment supports all young people and provides fair work through offerings such as work development, real living wage and appropriate contracts (not Zero hour!).
---
At this point you may be wondering, what's in it for businesses?
Well, not only will it support the young workforce in the short and long term, but the Young Person's Guarantee can benefit your organisation in several ways:
You can use the Young Person's Guarantee logo to promote your commitment on your social media, email and website, and be recognised for your participation. This can help you to showcase your company and its products and contribute to becoming an employer of choice.
You may receive financial support to employ and train young people, helping with cashflow and resource availability. For example, some apprenticeship schemes such as the Graduate Apprenticeship allows an employee to work towards an Honours Degree qualification for free.
Gain a competitive advantage within your industry through having access to future talent more easily.
Develop a skilled workforce, whether that be new or existing employees, with the potential for increased loyalty and engagement.
Avoid skills gaps within your workforce, allowing for maximum efficiency and productivity.
Retain young people living and working in the region, which not only benefits your organisation but the area's economy.
Facilitate business growth through recruitment, development, and succession planning.
Support your corporate social responsibility strategy.
---
After finding out more about the Guarantee we decided to take part ourselves in order to help young people in our area.
Visit Moray Speyside have worked hard over several years to support young people in Moray through our work with DYW Moray and our schools and college.
Signing up for the Young Person's Guarantee was straightforward to complete and gave us the opportunity to think about our commitment in the long-term.
There is no pressure to commit to more than you can practically provide, however, you have the option to note future aspirations you wish to provide. Some of which can be simple to then implement with the right support, such as the Developing the Young Workforce Moray team who are always available to help. 
The Covid-19 pandemic has been an unforgiving experience that we are all trying to recover from. However, for many, it has also nurtured an new level of collaboration and deeper sense of community; from looking out for your neighbour and shopping local to businesses sharing expertise and working together.
So, let's learn from this and continue forming these partnerships and support young people into our ever-evolving working environment.
If you are an employer and are interested in getting involved, you can find out more information and sign-up from the DYW website: https://dywmoray.co.uk/young-persons-guarantee