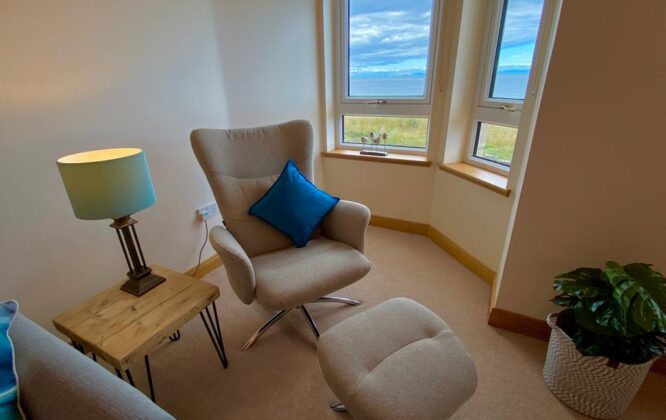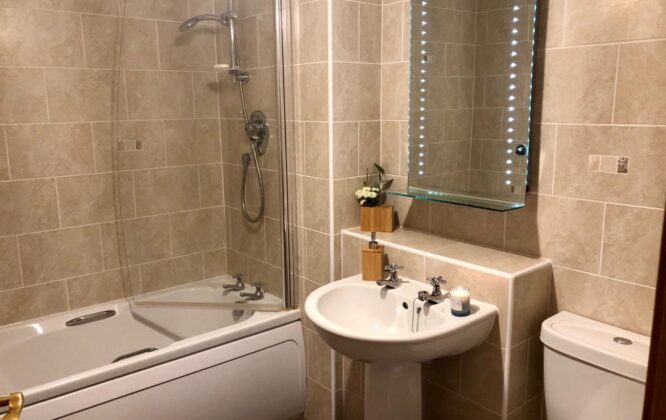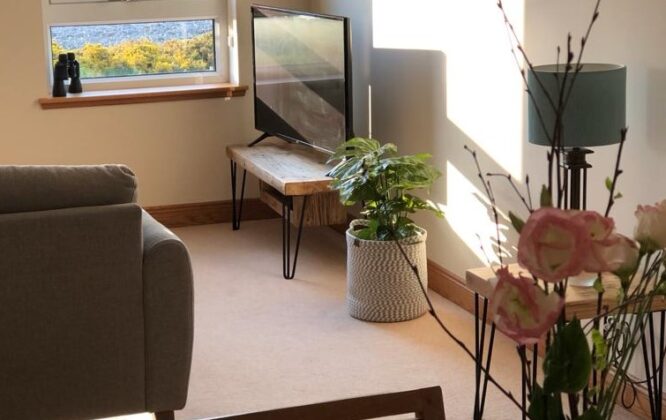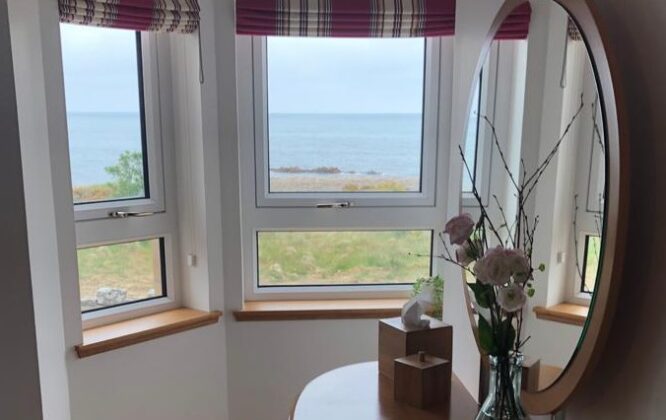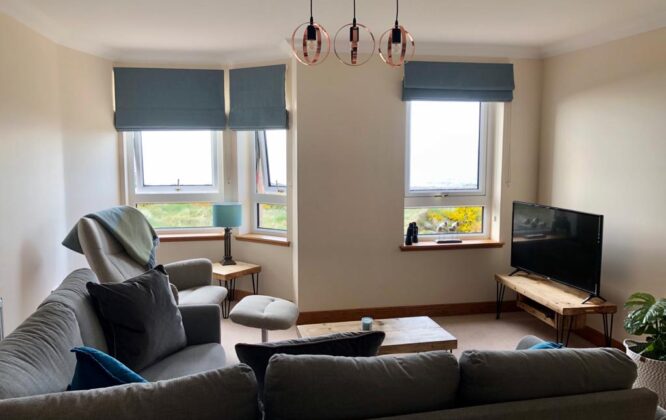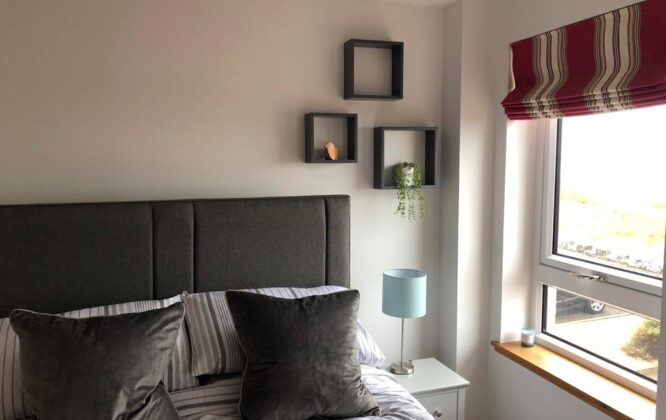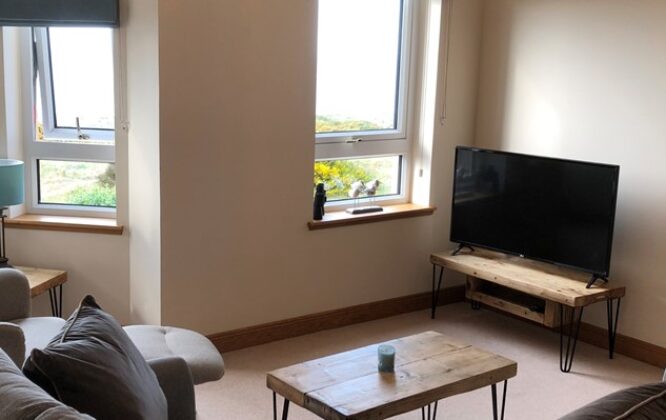 Lossiemouth
10 Stotfield Court,
Stotfield Road
Lossiemouth
Moray
IV31 6UA
shrug.wide.dart
Every 3 metre square of the world has been given a unique combination of three words. Find out more at what3words.com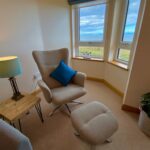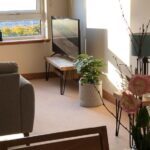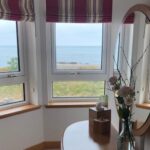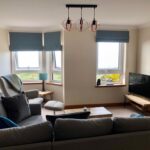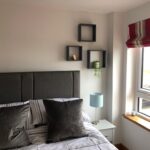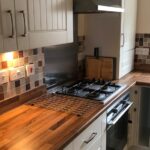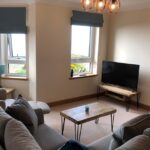 Overview
Luxury apartment with magnificent uninterrupted sea views  
Seashore Apartment overlooks north-east Scotland's stunning Moray coast and seascape from its magnificent elevated location in the quiet and exclusive Stotfield area of Lossiemouth.   This luxury 2-bedroom ground floor apartment has been furnished to a very high standard and is ideal for couples and families alike. Although the apartment is elevated above sea the sea-shore, the accommodation is all on one level including external access.
Within a short walk from the apartment you will find beautiful unspoilt sandy beaches (3 min) and rocky shores (2 min), championship golf course (2.5 min) restaurants, pubs and numerous varied take-away food outlets (all within 5 min).  It provides an ideal base for golfing, fishing, or touring the nearby Speyside Malt Whisky, as well as for walking or cycling holidays for day trips to the Cairngorms National Park or Loch Ness.
About the Area
The seaside town of Lossiemouth within the Moray Firth area  is renowned for its unspoilt East and West beaches. A popular holiday destination, it offers a wide range of outdoor activities including golf at the Moray Golf Club which has two 18 hole golf courses including a championship course. The apartment is only 5 minute walk from; Lossiemouth Fishing & Community Museum; Lossiemouth Marina, Wildlife Boat trips; fishing; and restaurants and cafes offering a range of local food and drink. The apartment provides an ideal centre for walking or cycling using the Moray Coastal Trail which passes the apartment and links with the nearby Dava Trail and the Speyside way, or touring the Malt Whisky Trail and Scotland's Castle Trail (Aberdeenshire) which along with the Cairngorms National Park and Loch Ness are great days out. The Moray Coast has been recognised as Scotland's 'sunshine coast' due to its mild climate and sunny aspect. Lossiemouth is an ideal base for exploring Inverness to the west (Inverness Airport is only 53 minutes by car)or Aberdeen to the east only 1.5 hours away, or you can take the train or bus directly from the city of Elgin which is only 5 miles and served by regular local buses from near the apartment. Elgin has a beautiful cathedral and there are many other nearby historical attractions  including: Duffus Castle, Spynie Palace, Pluscarden Abbey, Lady Hill Castle, Distilleries, Cooperage to name but a few. Further information on local attractions and events throughout the year are to be found on the Moray Speyside Tourism website.
Lossiemouth was historically a small port and fishing town and is now home to Scotland's only operational Royal Air Force station.
Owner Story
Gil & Glenn have long had a love affair with the sea and had been looking for some considerable time to find the perfect property, to return to Moray and re-establish a pied-a-tierre close to their family and new grand-daughter.
Seashore Apartment is our secluded retreat where we enjoy our spare time, our family, views and walks during all seasons.  We are happy to share it with you when we cannot be there.
The unique benefits of our property and reasons why we love spending time here:
Uninterrupted sea views from all main rooms
High quality of accommodation
Quiet location
Easy walking distance to activities, amenities
Adjacent to Moray Coastal Path
3 minutes' walk to Lossiemouth's west beach
Wildlife – including shore birds and the Moray Firth's protected populations of Harbour seals and Bottle-nosed dolphins which are frequently seen from the apartment
The apartment is furnished with all the things we love, and where possible, we have use local suppliers as we feel passionately about supporting all things local. The tables, bookcase and TV stand are all made by a local craftsman who uses reclaimed wood and natural products to create bespoke furniture Drfitwood Designs.
Getting Here
Get Directions to Seashore Apartment using Google Maps