This year's spectacular 'Brodie Illuminated 2022' light show takes visitors on an evening, awe-inspiring walk around the Brodie estate.
Visitors can enjoy a spectacular nighttime walk through the grounds and see the turreted 16th century castle lit up as if from a fairy tale. This year's tours feature a completely new route, taking in the castle's legendary Playful Garden which is home to characters including a giant rabbit and unicorns, as well as the shrubbery and wider estate. The rich and fascinating history of the Brodie clan and castle will also be brought to light through tales in celebration of Scotland's Year of Stories 2022.
Brodie Illuminated 2022 runs over four evenings each week (Wednesday to Saturday) from Wednesday 2 November until Saturday 26 November, from 5pm to 9pm. People can keep out any autumn chills with warm and tasty refreshments which will be available each evening, and youngsters can enjoy funfair rides on Fridays and Saturdays.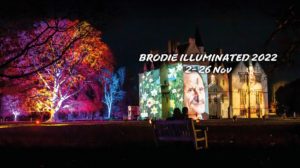 Edward Walling, the Trust's Acting Operations Manager at Brodie Castle, said: 'This year we have created a completely fresh route, with lots of new experiences to engage our visitors and to immerse themselves in, so whether they're a returning visitor or coming along for the first time, they won't be disappointed.
'Brodie Illuminated is a highly popular event here which really seems to capture people's imaginations. Come along for an evening of enchantment, wonder and a spectacle of colour! A big Brodie welcome awaits.'
Ticket booking slots are every half hour from 5pm with the last bookable time being at 8pm. Dogs are very welcome on short leads. To find out more and to book your tickets go to www.nts.org.uk/brodiecastle and click on 'events'.