Moray Speyside Check & Protect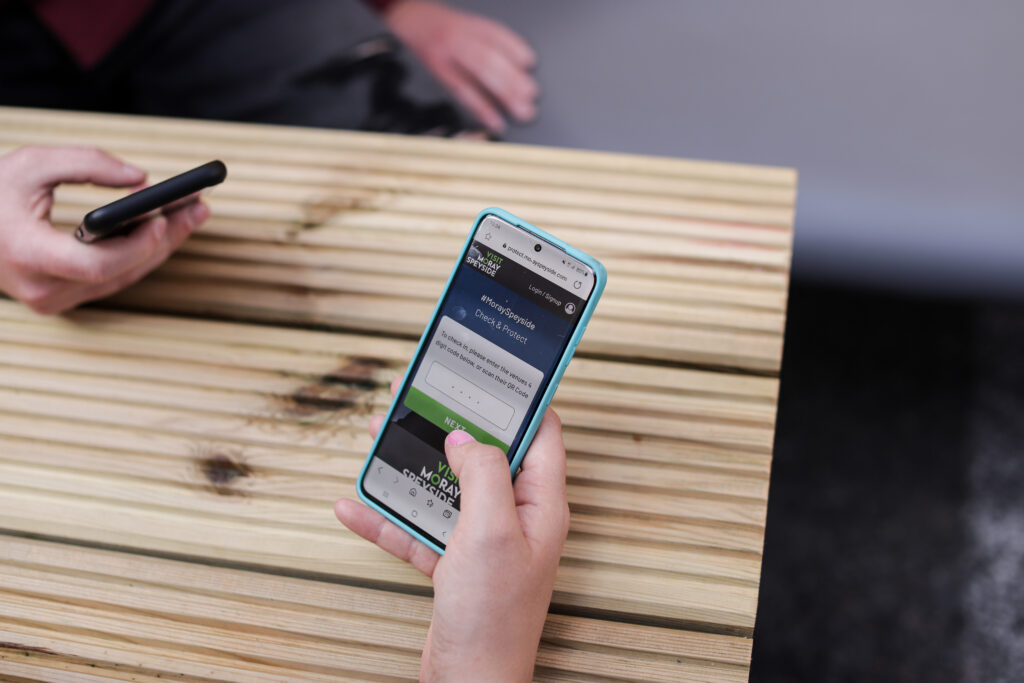 From Monday 21st March 2022, it is no longer mandatory for businesses to record customer contact details.
Visit Moray Speyside will maintain access to the Check and Protect platform until the end of 2022, whereupon we will review if it is still required.
---
Check & Protect from Visit Moray Speyside and Moray Chamber of Commerce is a free web-based platform which offers visitors and customers a safe, quick and easy way to check-in securely to any of around 100 participating venues using their mobile phone.
Details are recorded in GDPR secure way and held for 21 days before deletion, in line with the Scottish Government regulations – including recording the details of every individual in a party.
For visitors / guests who do not have a mobile phone, Check & Protect allows businesses to manually record guest details.
---
Why Use Moray Speyside Check & Protect?
Check & Protect allows guests to check in to all venues that use the system, without having to enter their contact details every time.
You just register your details once with Moray Speyside Check & Protect, then each time to arrive at a participating venue, you simply scan the business' unique QR code.

Check & Protect will record the time of your arrival.
You can also then 'check-out' of the venue when you leave from within the Check & Protect platform.
If you have additional members in your party, it is mandatory for the venue to record those details too. Check & Protect allows the venue to add the details of all members of your party using the Business Dashboard (avoiding paper and pens.)
Moray Speyside Check & Protect is not an app, it is a web-based system so you do not have to download anything and it won't take up space on your phone or drain your valuable data (or worse, your battery)
How Do I Sign Up?
It's easy and quick to register for Moray Speyside Check & Protect!
You can either wait until you arrive at one of almost 100 participating venues and simply scan the QR code (this will ask you to create a personal account using your mobile phone number) or you can follow this link to the Check & Protect Sign-up page so you're ready to go!
Scan a QR code at a participating venue
Or
Click the link above to go the Check & Protect sign-up page
Enter your name, email address and phone number
Click submit
Scan the QR code when you get to a Check & Protect venue
---
What if I forget to Check Out?
Don't worry – you can check out using the platform even after you've left the venue, and the system will automatically check you out after 12 hours.
---
Is this Secure?
Yes. All data is stored remotely, on secure servers and in-line with GDPR Guidelines, by Visit Moray & Speyside Limited (VMS). Visit Moray & Speyside Limited (VMS) is the Tourism Business Improvement District company for the Moray region.
Our privacy policy can be seen at THIS LINK
What will we do with your data?
Check in data will be stored securely for 21 days then auto deleted.
If a business requires data for NHS Scotland Test and Protect this must be requested from VMS and will be sent directly to NHS Scotland Test and Protect or the Local Authority.
Will you send me spam emails?
No, patron data is held expressly for the purpose of adhering to the guidance. Visit Moray Speyside do not hold your data for marketing purposes.
---